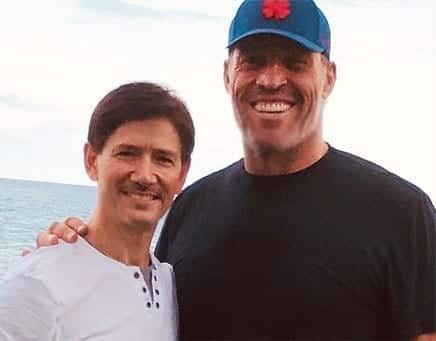 "Over the last 39 Years I've had the privilege of working with more than 50 million people in over 100 countries. The demands I have put on my body for those decades are a bit crazy. As a result I suffered debilitating physical pain for years. I tried virtually every form of body work before meeting Brian Tuckey and his team of Fascial Counterstrain practitioners. This work and it's proprietary multi system approach, has alleviated my symptoms and enabled me to perform at the highest level. The technique is gentle, painless and yields instant results which can only be described as miraculous at times. I highly recommend this technique to anyone who wishes to maximize their physical performance and feel it will soon revolutionize not only the world of chronic pain but also athletic performance and recovery."
Anthony "Tony" Robbins
#1 New York Times Best Selling Author, Life and Business Strategist, Philanthropist
Interview Series with Facial Counterstrain Innovator Brian Tuckey PT, OCS, JSCCI
Facial Counterstrain (FCS) is an innovative system of soft tissue manipulation developed by orthopedic specialist Brain Tuckey PT, OCS, JSCCI. Learn more in this series of interviews with the creator of Facial Counterstrain.
Episode 1 introduces Brian's academic background which led to the eventual development of Facial Counterstrain. Episode 2 dives deeper into Brian's process of discovering the role of fascia in the body and the development of new treatments.

This technique has helped me so many times in the last few years. Thank you. I highly recommend this place
C. G.
This place, time and again, has been a work of miracles for me. Truly, Frederick's diamond in the rough, as not many states are lucky enough yet, to have physical therapists who practice Brian Tuckey's successful Strain Counterstrain modality of physical therapy treatment. I began with Brian, and continued her… being treated by PT assistant Tracy (no longer there), Chris, Cindy, and Karen. My latest two visits, I was blessed to meet Laura, another amazing practitioner of this PT modality, who has come to work there for the past two Summers, then returns to FL when the Summer season ends. I highly recommend all of them, whichever you can get in with, as they always have the scheduling book filled. They also now have an amazing acupuncturist, named Bailey, that works Mondays and Wednesdays. I have has several sessions with her, and loved each one! I love this place!! The whole place is full of positive energy, from the friendly and always accommodating Judy, at the front desk, the billing staff, to all of the wonderful PT practitioners who work there. Read more "I love this place!!"
L. V.
Brian and his staff have a wonderful, credible reputation. I've been to 2 PTs for strain and counterstrain therapy and will continue. It is so worth the drive from Hagerstown. I would travel further if need be. I'm psyched to go there and psyched when I leave, feeling so good… from the therapy. I was totally amazed at this technique. Who would ever think something so gentle and relaxing could be so beneficial and sudden! I am so grateful to have them as my PTs with such knowledge of the body. Read more "Brian and his staff have a wonderful, credible reputation"
M.
Tuckey and Associates incorporate a rather amazing new technique called Strain and Counterstrain into their therapies. In fact, Brian Tuckey helped develop the techniques and is one of only four PT's certified to teach this method in the US. It is a very light touch treatment that is unusual in… that it affects not only muscle tightness, but also the supportive network of connective tissue generally unaltered by traditional pt or massage. Results can be amazing. Highly recommended!! Read more "Results can be amazing. Highly recommended!!"
T. B.
After a nasty car accident and 6 months of painful PT, was sent here by my physical therapist when I stopped making progress with her. Justin works magic. Plain and simple. This technique is painless and amazing. I highly recommend it.
B. B
I have been treated for lower back pain here and have seen amazing results that no traditional Physical therapist or chiropractor could ever do. Such amazing work and technique.
N. P.
Brian has been treating daughters jennifer and elizabeth for several years for back issues complicated by Lyme disease. Every time they go in they come out feeling better… his work is a necessity to keep them moving. Brian is compassionate, gentle, and personal without being invasive or inappropriate. He's incredibly… skilled and wonderfully understanding. Read more "Brian is compassionate, gentle, and personal…"
M.
The most helpful physical therapy around, hands on. It works.
L. F.
My wife, a patient of Brian Tuckey's, recommended that I see Tuckey for my achy knees and lower legs, a condition with which I'd suffered after growing 10 inches in a year as a teenager.  (My knees crunched when I moved, and legs ached, also hurt when I went to… bed.)  Brian Tuckey examined me, was familiar with my symptoms.  He treated me once – no more leg pain. I also had lower back issues that I had been living with for years, and could not keep up with my wife doing yardwork.  Again, Tuckey examined and treated me.  After 4 visits, I felt much better.  A couple of weeks later my wife and I were working in the yard, cleaning up our fence line so it could be painted.  After working about 6 or 7 hours, we relaxed on the patio.  I realized only then that I had not need to stop once to rest – I now feel, quite literally, years younger than my actual age of 65. I cannot say enough about the care and treatment I received at Tuckey and Associates. I always recommend this office to all of my friends and relatives Read more "I always recommend this office to all of my friends and relatives"
T. B.
I flew from Chicago just to be treated here. It was well worth the trip! As a physical therapist myself, I only want the most skilled hands working on me! And the results are phenomenal! If you don't go here for your pain, lack of motion, tightness, weakness, instability, or… even for digestive issues, YOUR'E MISSING OUT! Get yourself here to be healed! A God-send!! Read more "Get yourself here to be healed! A God-send!!"
L. M.
See Results in Action!
Case Studies
With Rapid, Visible Results
Conditions Treated
Fascial Counterstrain is designed to identify and correct dysfunction in all of the body's systems including the vascular, visceral, nervous and musculoskeletal systems.
View Treated Conditions